High paying aerospace jobs are in Elmore County.
Velocity Composites has located its new U.S. headquarters in Tallassee. The facility will supply GKN Aerospace with cut carbon shapes. Initially the company has hired about 40 full time employees and hopes to double that number in the near future.
"At the moment we have one contract with GKN and obviously we will be pursuing other contracts in the United States again in aerospace but all conducted from here in Tallassee," Velocity Composites strategic operations director Jeff Armitage said. "This first contract represents about 50 percent of the capacity that we have here in Tallassee. We have set this factory up to do twice as much as we have a contract for. That is twice as many jobs. Initially it is 40 plus jobs and hopefully more than doubling that in the not so distant future."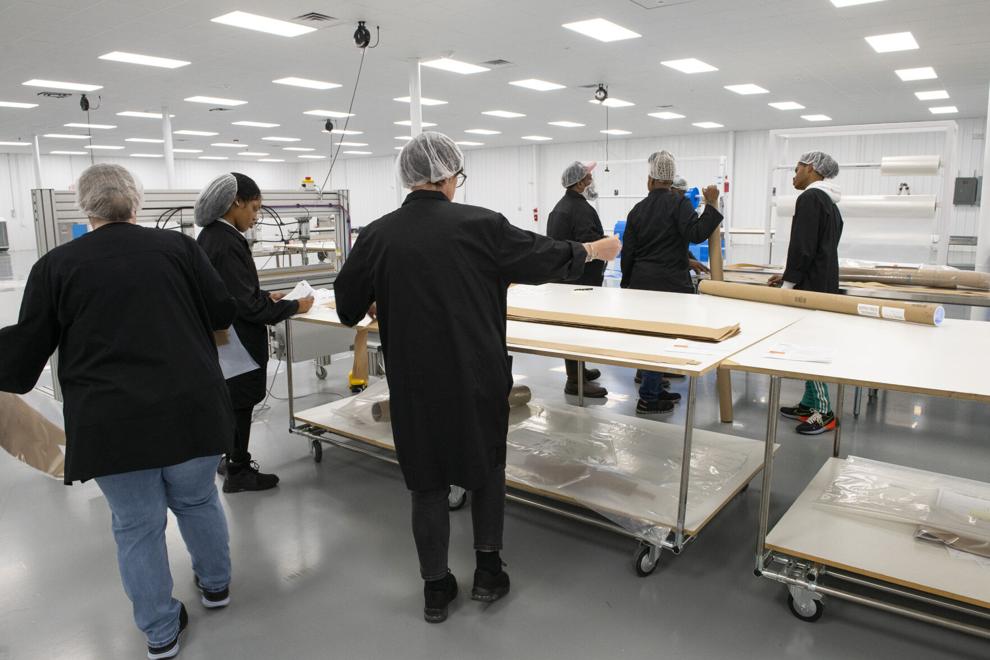 Velocity Composites is a British company and so is Armitage, but the company wants to be local.
"It is being set up as a U.S. company; it is its own company," Armitage said. "Velocity Composites is an American company and will be American staffed and American runned. Once the Brits have set it up, we will clear off and leave to local Americans to run and local Americans to manage. The plan is not to have a full time UK presence here. We will make it a self contained U.S. facility."
Velocity's efforts to be a local company with a local workforce started as it completed the build of the facility on Tallassee Highway just up the road from its main customer, GKN.
"We used local suppliers to do electrical work, building work," Armitage said. "The furthest we have gone is Montgomery. Fire and alarms are Tallassee people. I saw them as I was driving down the road. A company that employs vets has done all the IT. We have tried to be very local."
Armitage said the goal is for everyone employed to be local while avoiding employee turnover and absenteeism.
"We want it all to be local jobs with us doing training, safety training and paying competitive rate of pay," Armitage said. "We give competitive medical insurance. We are trying to create a team that doesn't leave for 50 cents on the dollar by providing a quality job and quality work environment. We are a source of good jobs."
Future jobs will be offered through job fairs with AIDT.
The work environment is almost sterile. In order for the high-tech machinery to work, employees enter a clean room. The temperature and humidity is controlled.
Elmore County Economic Development Authority's Lisa Van Wagner said the recruitment of Velocity was rather fast.
"We started last year and had help from the Tallassee Industrial Development Board," Van Wagner said. "This will be their U.S. headquarters and first U.S. facility. It will be very high tech and state of the art."
It is so state of the art the cutting machines are available from only Australia. But it's the technology that sets Velocity apart according to Armitage.
"We get more out of a meter of material because of the technology in the nest, it is our intellectual property," Armitage said. "We don't have waste because we nest them very close together."
Velocity has already cut some of its first carbon pieces but currently is training employees hired at its first job fair. 
"We are practicing on paper," Armitage said. "Right now it's practice, practice right now. These would be done in carbon fiber. We cut them out and put them in a kit. At GKN they take them out and assemble them."
Armitage is hopeful the new team of employees will be using carbon fiber in place of the practice paper. When they do swap over, it will be the first of many repetitions for the machines and employees.
"We have two machines right now, a third one arriving in May," Armitage said. "Two more arrive later and double our capacity. It will be 100s of thousands of these in a year. 40 to 50 thousand every month. It's massive quantities when we get into it."