It was 65 years ago, a time before computers and smartphones, when radio station WTLS signed on June 1, 1954.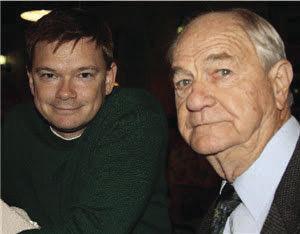 Although much has changed in the broadcast industry, much is still the same at WTLS — it serves the community it calls home.
The original WTLS studios were on Gilmer Ave. across from a popular hangout known as Tubby's Place. It was where songs by Elvis Presley and Hank Williams were played. It was where the station broke the news of the Kennedy assassination.
Ned Butler was an engineer who worked with Bert Bank on building radio stations across Alabama and also worked as a disc jockey. He was the "Boogie Man" in Lafayette, Louisiana.
He bought WTLS from Bank shortly after it was launched and ran the operation until 1999. Everybody in the family had some part in the station including Ned's wife Betty and their three sons Ned Jr., Steve and Robin.
Steve Butler has been a part of WTLS his entire life from his early days as a disc jockey to today. He now does a weekly show called "Music Makers" on Monday mornings at 8:15.
"I started going to the station when I was 5," Steve Butler said. "The first commercial I did was for Dairyland Farm Milk at about 5 or 6. I was about 10 when I started working between two turntables."
Michael Butler, Steve's son, grew up in the business as well and moved back to Tallassee in 1999 to take over the operation, changing it from AM daytime to around the clock. In 2000, new studios were built in the Tallassee Industrial Park and a new tower and transmitter were added.
WTLS added an FM translator in 2007 and began simulcasting its 1300 AM signal on 106.5 FM. It increased its broadcast coverage with the addition of a 430-foot tower in 2011.
The station was awarded the inaugural Alabama Broadcasters Association "Station of the Year" ABBY Award in 2007.
WTLS has served as the flagship station for multiple statewide, regional and national programs. Currently, the "Lindy's Football Report," a weekly college football preview show, is produced in Tallassee at WTLS and is carried across the country by more than 80 radio affiliates. Michael Butler co-hosts the program with Graham Dunn.
Michael Butler is in his 20th year on the "Wake-Up Call" on WTLS featuring a variety of local guests weekdays from 6 to 9 a.m. The daily lineup also includes nationally syndicated talk show host Chris Plante from 9 a.m. to noon, River Region Sports with Dunn from noon to 2 p.m. and the Paul Finebaum Show from 2 to 6 p.m.
WTLS broadcasts live coverage of Tallassee High School sports and provides audio and video streaming of select games. The station has carried THS football since its first year on the air 65 years ago. WTLS also broadcasts University of Alabama sports through the Crimson Tide Sports Network.
The longest-running program on WTLS is "Gospel in the Morningtime" hosted by Charles Blalock and Isaac Brown every Sunday at 8:30 a.m. It began on WTLS in 1958 and was originally hosted by Johnny Fitzpatrick.
Here's a Who's Who of former WTLS personalities:
• Harlan Burton, show host: "I had a show called the 'Harlan Burton Country Show.' As Barbara Mandrell said, 'I was country when country wasn't cool.' I said, 'Ned you need to get away from this rock 'n roll and go country."
• Hank Holman, WTLS' first disc jockey: "Ned and I were working together in my hometown in Ozark. He said, 'I want you to come (to Tallassee) when we go on the air.' I said it'd be fun to work with you and put a new station on the air but I'm doing pretty well here. He said, 'I'll pay you $5 a week more than you're making here.' I jumped at that."
• Harold Shedd, disc jockey: "I don't think anyone had any idea that (Alabama) would be as successful as they were. We got to No. 17 with 'My Home's in Alabama.' That's when major record companies started to take notice. The next single was 'Tennessee River,' the first No. 1. We had 22 (No. 1 records) in a row."
• Jack Mitchell, disc jockey/station manager: "(I) started about '58 or '59. I think I was about 13 or 14 years old. I told Ned I wanted to be an announcer. He said, 'Come here boy. Let me hear you read.' Back then they would rip and read news off the AP wire. I found out real quick I better get out of here. I hung out at the radio station as much as I could after school and on weekends. One day, Ned was sick with the flu. He said, 'You know how to work this board?' I said, 'Yes sir. ' He said, 'I'm going home and going to bed.' I was in hog heaven."
• Charles "CC" Blalock, show host: "When this station opened up, man were we glad to hear a radio station in Tallassee, Alabama! One evening I came up and (Ned) was running the station. I told him what I wanted to do. Only thing he said was, 'When you want to start?'"
• W.C. Bryant, disc jockey: "Back in the olden days, nothing was automated, no CDs, two turntables, you had a pot — that is a switch for every turntable and microphone. Back then you used to cue up your records to make sure they were going to start when you flipped the switch and there was no dead air. The great sin back then was having dead air. When you opened the mic you had to talk. When you flipped the switch there had to be music. Whenever you put a tape in the tape machine there was a commercial. If you put a record on to go to the restroom, you better be sure you timed your restroom visit to three minutes or you were going to be in trouble."