There have been several big basketball tournaments across the state forced to cancel this year and the annual Elmore County Tournament was in danger of joining them.
Holtville was originally slated as the host of this year's tournament but with attendance limits already in place by the Alabama High School Athletics Association, it was going to be difficult to make the tournament worth having in a smaller gym.
That's when Stanhope Elmore stepped up and said it could host this year's tournament in a bigger gym with the attendance still being limited by the AHSAA's standards.
"Our principal said the county tournament was in jeopardy and he spoke up and said we'll take it," SEHS boys coach David Cochran said, "He put it on our admin staff to come up with a game plan to make it happen. You can't control everybody but we wanted to make sure to keep this thing going and make it as safe as we can for everyone."
Even though the tournament will still be happening, it also comes with some changes to the format and the scheduling because of COVID-19.
Both tournaments will feature all five AHSAA schools in Elmore County, all sitting in Classes 5A or 6A for the first time ever. The event will now start on Wednesday evening and run until the championship games on Saturday night, extending the tournament from its usual three-day format.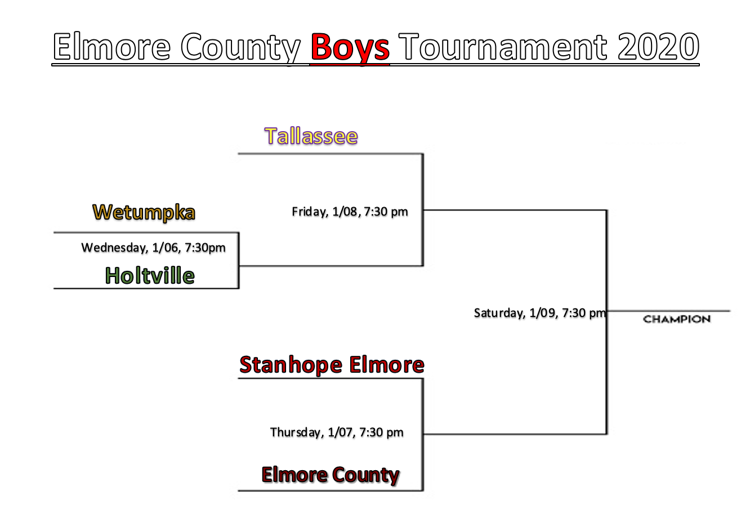 "Instead of the traditional way of doing it, we spread it to Wednesday to have two games a night," Cochran said. "It will almost be like a regular night of basketball starting at 5 p.m. with a girl's game first followed by the boys' game."
In between the games for each session, the gym will be cleared of all players and fans in order to sanitize the stands, benches and floor. Cochran said he expects that period to take 20 to 30 minutes before the next game will start back up after fans come back into the gym.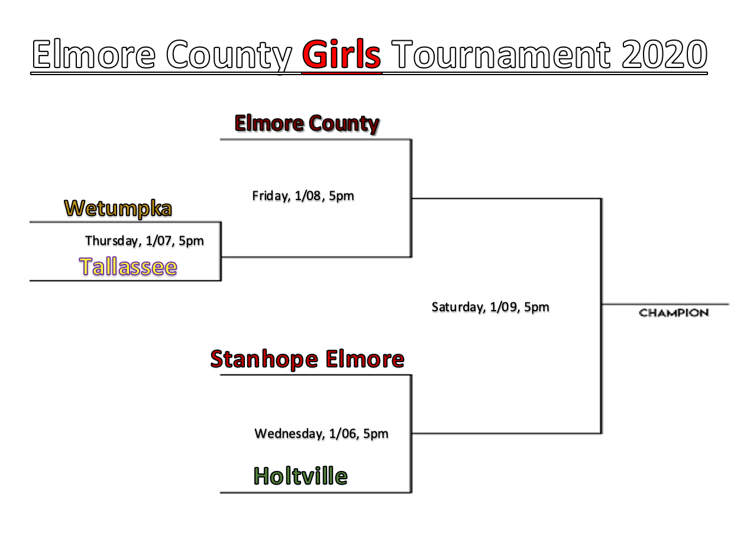 There will also be separate parking plus a specific entrance and exit for team members in order to limit any gatherings with fans after the game within the gym.
"I think this is probably the best way we could come up with to make sure we still keep this going," Cochran said.
The bracket format has also made a change this season as county coaches have agreed to give the tournament's bye to the reigning champions of each tournament. This year, Tallassee's boys team and Elmore County's girls team received a bye while the other two matchups in each competition were set by Stanhope Elmore.
While many teams have been forced to take extended breaks over the holidays, the tournament is clearly a quick turnaround but can also serve as a way to prepare for the back half of the season and the playoffs. Cochran said it is important for all of the teams to get these games in while they can.
"It's a crazy year where you aren't guaranteed another game or a tomorrow," Cochran said. "There have been games canceled already for everybody. We want to work out a game plan to make sure we can keep this going and get as many games in as we possibly can. At the end of the day, it's about the kids."
There will be 250 people allowed in for each game, which is just under the AHSAA's required 20 percent limit on gym capacity. Temperature checks will be done at the door and masks are required.
Game tickets are $6 while a tournament pass option is available for $15. All tickets must be purchased in advance on GoFan.