Teams were searching by land and air Wednesday morning looking for Judy Kennebrew who was last seen around 6 p.m. Jan. 8 in the area of Jackson Lane in Tallassee. Local volunteers searched the terrain surrounding Kennebrew's home and Tallapoosa County Sheriff's Office searched by helicopter for the 65-year old Tallassee resident.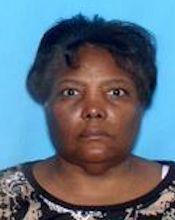 "We have ATVs and probably about eight to 10 people," said Willie Smith, who is Kennebrew's cousin and search party coordinator.
According to Smith, Kennebrew would not have been physically able to travel too far on foot.
"She could barely walk," Smith said. "There is no she walked from here to Macon County in her condition."
According to Smith, Kennebrew's pet is most likely with her.
"Her dog is with her," he said.
A neighbor said Kennebrew's dog was at his house on the morning of Saturday, Jan. 11. However, it wasn't reported until later because the neighbor was unaware of Kennebrew's disappearance at that time.
"I don't think the dog's going to leave her," Smith said. "I think the dog was going there to get help, barking to them know something isn't right. That's why we have been focusing on that area."
According to Smith, a near-empty bag of chips and a bottle of Gatorade were found in the same area as the dog sighting, giving Smith more reason to focus on the area of interest.
Kennebrew was known to walk in the area of Jackson Lane but according to family members that was as far as she would go.
"She would walk to her friend's house but that was about as far as she would go," Smith said.
When it was realized Kennebrew was missing, it was dark outside.
"It was late at night and they went looking for her but couldn't find her," Smith said.
The area around Jackson Lane is heavily wooded with rugged terrain.
"These woods are unforgiving," Smith said. "If you get lost in these woods, you are lost."
There have been reports of sightings of Kennebrew, but none of those reports have been confirmed.
"We went and followed up on a couple of leads a few minutes ago (Wednesday morning)," Smith said. "Someone said she was spotted at Oak Heights Store. No sightings there."
There are some abandoned structures in the search area, but Smith said those sites have been checked and there were no signs of Kennebrew.
"We have cleared those trailers and houses," Smith continued.
The search for Kennebrew is active and volunteers who would like to join should come in groups of two or more.
"You get in those thick woods and you have to know exactly what you are doing," Smith explained. "You have to keep someone in sight and keep communication with somebody because it doesn't take long. We are not turning down help, because we need all we can get. Once we get more help over here, we can do a broader search."
Smith said he will not stop until Kennebrew is located and he hopes this search will have a positive outcome.
"Mrs. Judy is a human being, somebody's mother, sister, wife and as a resident of this community, she needs to be found," Smith said. "We need to know what happened. You just don't vanish in thin air. She is here somewhere. Seven days is too long and every second counts."